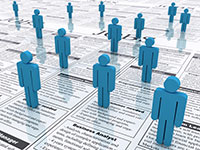 Applicant Tracking
HowardSimon helps HR manage applicants, with the availability of AppliTrack. The system focuses on the most significant areas of the application process.
Recruitment & Selection
Advanced web-based job posting capabilities reach a wider network of individuals and attract a higher number of qualified applicants. Tools available to aid in the recruitment process include interview management, tracking efforts, and assessments.
Research-based tools evaluate applicants' characteristics and compare them to high-performing employees to determine if a candidate will work well within your organization. Receive valuable insight to make top selections.
Customizable pages for unlimited, and distinct, applicant groups
Interview manager function to setup time slots for selected applicants to self- schedule interviews
Advanced search capabilities to quickly generate information based on specific criteria
Applicant data importing with a single click (contact info, references, education, work history, etc.)
Custom screen views to compare applicants and simple point-click filtering
Tool to create your own paperless e-forms, such as for evaluation documents, interview ratings or new-hire onboarding packets